Students of 'Prototyping Future Cities' Master Programme are finalists of Hackathon 2025 in Skolkovo Technopark!
Altynai Nogobaeva, Dmitry Mamaev and Michael Omona, students of the Master Programme 'Prototyping Future cities', presented their project 'AgreeCulture' in the Ecology section during Hackathon 2025 in Skolkovo Technopark.
Last weekend, 27-28 January,
Skolkovo Technopark
hosted the largest hackathon of 2018 with the aim of finding talented developers who would create a project of a Future City for Yekaterinburg. The organizer of the event was the
Bid Committee of EXPO 2025
.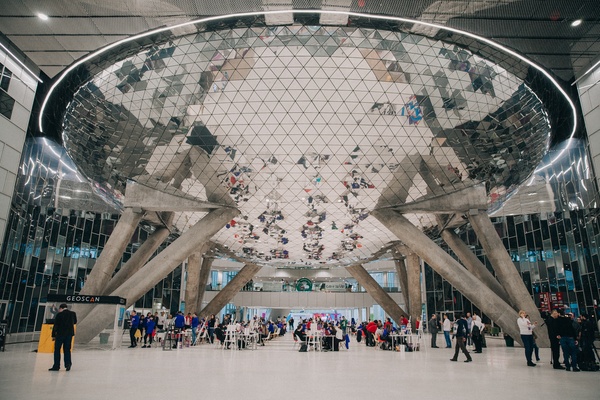 Photo:
Rusbase
The project 'AgreeCulture' is based on the idea of 'city farming', a growing trend in the postindustrial city development. Nowadays this movement is gaining popularity worldwide: London is setting ambitious targets for the agricultural use of roofs, urban farms are filling abandoned quarters and industrial zones in Detroit and a skyscraper with a vertical forest of 50,000 trees is being designed in Shanghai.
Our students' project focuses on economically effective use of empty urban areas and improvement of city ecology. It aims to create city farms which grow fruits and vegetables within an urban environment. You could be a customer or a farmer or both! To enable people to order products and manage their farms, our team developed an app through which either operation could be done just 'in one click'. Moreover, it gives an opportunity to meet the producer of goods face-to-face creating a trustworthy atmosphere between the seller and the buyer.
'I was glad to take part in Hackathon 2025. I enjoyed both the atmosphere and organization. In my opinion, we have assembled a strong international team. The jury showed interest in our project, and now I have a great desire to continue working on it', – Dmitry Mamaev told us.
Michael Omona is very excited about the event too: 'The 2025 Hackathon was great. It demonstrated ingenuity and the ability of the teams to think on their feet. Within 2 days that it took to come up with a project and a proposal, many teams had creative projects. The jury was excellent and gave relevant advice during the consultations. The entire project was a display of great minds. I am looking forward to further collaborations of the same kind and will definitely participate in such projects whenever it is possible'.
The tutors of the Master Programme 'Prototyping Future Cities' Elena Mitrofanova and Ivan Mitrofanov took part in Hackathon 2025 as mentors in 'New Technologies in Construction' section and 'IoT for City and Houses' section. 'As field professionals, we were invited to the hackathon as mentors to guide young and bright teams from all over Russia on their way from an idea to a developed project, which would be a part of a building in the City of the Future in Yekaterinburg. And we are certainly very happy to see our own students on the stage as finalists of the Hackathon!' – Ivan commented.
'There are no losers in Hackathon 2025. We have reached the final stage, and for us it is already a victory. It is nice to realize that out of 738 applications our project was in the shortlist of 125. Participating in this event was beneficial to each of us: for some it was a chance to spread their networking, for others it was a 'jumpstart' of new skills. I always stand for taking part in this kind of events because they develop your professional potential in unconstrained and fun atmosphere!' – Altynai Nogobaeva shared her experience.
Vysokovsky Graduate School of Urbanism